Our "pink ladies" teach these pups right!
polite
mind manners
play nice
be friendly to others
share
have fun
Grandma-ma Cassie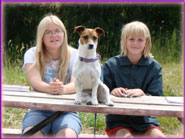 Cassie, Rizzo, Maggie, Rylee, Izabella & Annie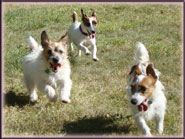 Rylee, Rizzo & Izabella
Annie joined us from Golden in September 2011, and we're sure you'll agree she's one beautiful JRT mom! Her last litter of JRT pups was with Spanky, and arrived on 11/12/12... 2 females and 2 males - all with lots of color - and all in new homes.
Maggie Mae has been playing with the other females' pups, and sure seems to miss them since they've gone to new owners... so she got together with Tubs, and they have 5 new pups, born 5/9/13.
Izabella is one of our upcoming females. She met a beau...
Update! Izzy & Ryder are getting along quite well... and they had their first litter of puppies in March. All their pups are already in new homes!
Rizzo is out of Spanky & Cassie, and is UKC registered. She'd been flirting with Ryder too (of course, who wouldn't - he's pretty handsome); good thing sharing is okay with the dogs! Born on 3/15, their pups are growing fast!
Rylee is hanging out and has been playing auntie to the new puppies. Since they've left, she's thinking maybe spring of 2013 will be her turn to be the mommy. Like maybe March 2013... and she was right! Rylee & Ryder's pups joined the world on 3/21, and two are already in new homes...
Cassie "retired" in October 2008, but just from having her own pups! Cassie is the mother of Maggie and Rizzo, and she keeps all the girls in line, as well as constantly enjoying and teaching all the grand-pups!
Annie
Jack Russell Terrier
mom

Reserve your new sweet playful jack russell puppy now! Our pups are "shorties" and may have long or short coats, but all are home grown (not in kennels) and have mild temperaments and lots of love to share.
Reserve your Jack Russell Terrier puppy today!
LuAnn Wallace
PO Box 571
Collbran, CO 81624
970-487-3332 - office
970-487-3596 - home
970-270-6866 - cell
Spanky's Story - a Jack Russell Tale
JRT moms havin' FUN - Maggie & Izzy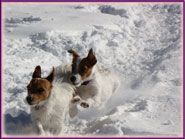 Page 4
The girls hang out with LuAnn while she's doing hair too. But when we're off, we have fun going to rodeos, gymkhanas, and fairs all around Colorado. All of the kids want to pet and play with the puppies (and the adult jack russells too) because they're so friendly, well-behaved, cuddly and just flat out adorable.
Not all of the dogs get to go every time, but every one of them are well-socialized with humans as well as other animals.

Spanky's Human: LuAnn
Plateau Valley Hair Affair
Collbran, CO 81624

970-487-3332 - office
970-487-3596 - home
970-270-6866 - cell